current reports :
Across the highway
In March 2001 the Plan-Puebla-Panama (PPP) came into action, a development programme für Central America. The plan sees the absorbition into the world market of Mexico's southern provinces, which are mainly habitated by indigenous peoples. Three projects shown in this video are an example on how the interests of the indigenous people become obsolete in favour of the transnational companies - but also, that a massive resistance movement has grown in the last few years against the PPP.
More infos on this subject on: http://www.gipfelsturm.net/puebla.htm 2004, Duration, 32 minutes
more info: http://www.gipfelsturm.net/puebla.htm
2004, 32 Minutes
"borderline south-east-europe" (grenzfall südosteuropa)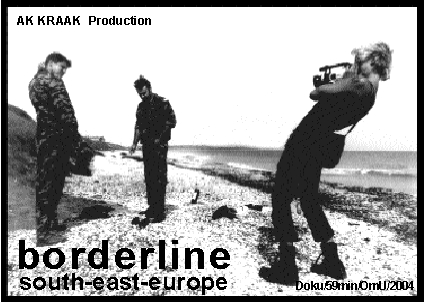 borderline, is a one-hour doco about borders, the EU's growth into the East, aswell
as the Roma people - told from the perspective of the people, whom we have met
on our journey.
Ak Kraak 2004, 60 min, english/german
Let the lords do what they want....
Frauen auf dem WSF in Indien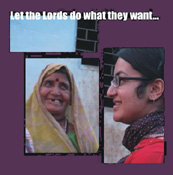 The World Social Forum of 2004 in Mumbai not only broke the tradition of Porto Alegre, by taking the Forum to a mega-city, where especially women are hit hardly by the daily struggle for survival caused by privatisation and the rape of the world's resources. It was also the first Social Forum where a loud voice from the feminist movement's critique of the ruling gender classes could loudly be heard. This issue is covered by this doco, and lets the women from the basis movements and from the international women's organisations come to word.
Ak Kraak 2004, 60 min, Original sound with subtitles.
The European Social Forum
The labour unions and the globalisation-critical movement
Labour Unions and the globalisation-critical Movemenrt. Still overcome by the huge demo on the 1st November, the Unions try an approach
to the part of the movement which is the most critical of globalisation. How can a co-working between the various groups (e.g. Sans Papier,
Sinaltrainal, etc..) look like? There's many differences not only in content, but also in relation to the radicality of the demands and the
forms of actions. Ak Kraak, 18 min